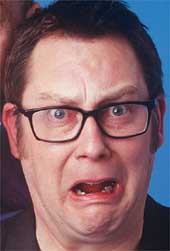 James Roderick Moir, more commonly known as Vic Reeves (born 24th January 1959 in Leeds, England) is a British comedian, best known for his work with Bob Mortimer (see Vic and Bob).
Personal Life
Edit
Jim Moir (known to his family as "Rod" to avoid confusion) was born in Leeds, and at the age of five moved to Darlington with his father, mother, and younger sister Lois.
Before moving to London, he had worked as a pig farmer (where he learned to castrate piglets), a cabbage farmer, and an aeronautical factory inspector.
His move to London came when the Fashionable Five, his gang of friends, all decided to follow Jack Dent to the city where they all lived together and found jobs in the civil service.
Vic began his career in comedy when he was given the job of managing a club in London in the mid-eighties. He wanted to begin a comedy club, but with no idea of how to book any acts he performed himself with the help of a few friends.
As Vic Reeves
Edit
As a Musician
Edit
In 1991, Reeves became one of the few comedians to have had a number one hit single. After he and Bob performed Free's Little Bit of Love on stage with The Wonder Stuff, they recorded Dizzy, and a week after being released, it shot to the number one slot, knocking off popular band U2's first number one for years.
A popular piece of tabloid trivia is that Reeves derived his name from his two favourite singers, Vic Damone and Jim Reeves, but he has since declared this as false, saying that he lied as there was no interesting story behind coming up with the name.
He, his father and grandfather are all named Jim Moir, and all share the same birthday.
He and Bob are huge fans of 70's rock band Free, and boast of their encyclopedic knowledge of the subject
After watching 2001: A Space Odyssey as a teenager, he went out and bought what he thought was the soundtrack, but actually got Space Oddity by David Bowie.
He once appeared in a Shakin' Stevens video in 1986 and was paid £10 for it.
Further Reading
Edit
External Links
Edit