Vic Reeves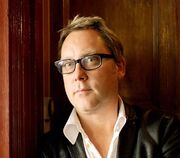 Vic Reeves (born January 24th, 1959 in Leeds, England) is a British comedian best known for his shows with comedy partner Bob Mortimer. After performing his own comedy show in various London pubs, Vic was joined by audience member Bob and together they have gone on to create many original and popular TV shows together (see Portal: Vic and Bob).
Away from Bob, Vic has made several of his own TV shows including Vic Reeves Examines, Vic Reeves' Rogues Gallery, and is also an accomplished artist and musician, having a number one single in 1991 and several paintings showcased in the 2006 Royal Exhibition.
In January 2003, Vic married model Nancy Sorrell and in May 2006 they had twin daughters, Elizabeth and Nell. Vic also has a girl and a boy, Alice and Louis, from his first marriage. He was also presenter of popular Sky One programme Braniac: Science Abuse for in 2007.